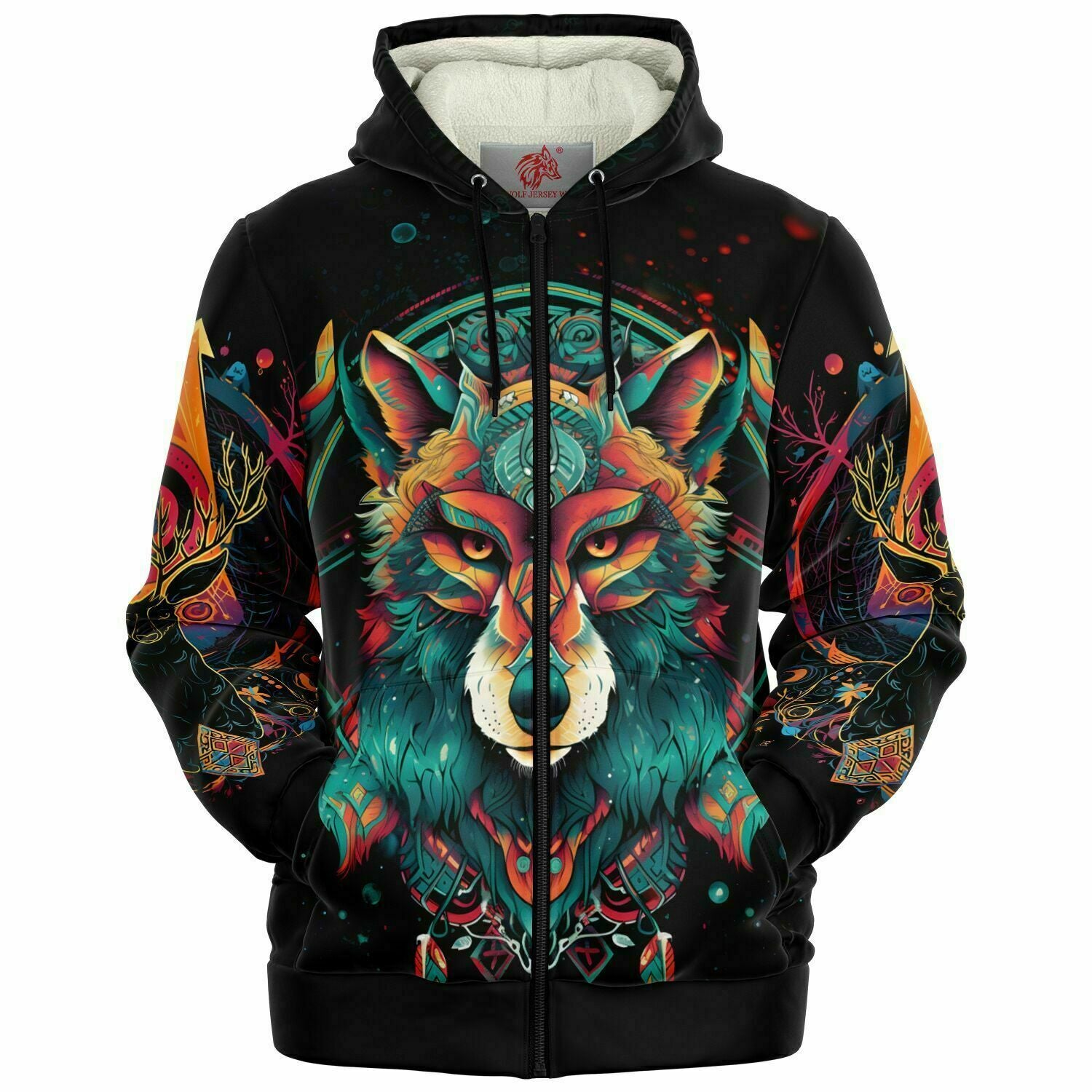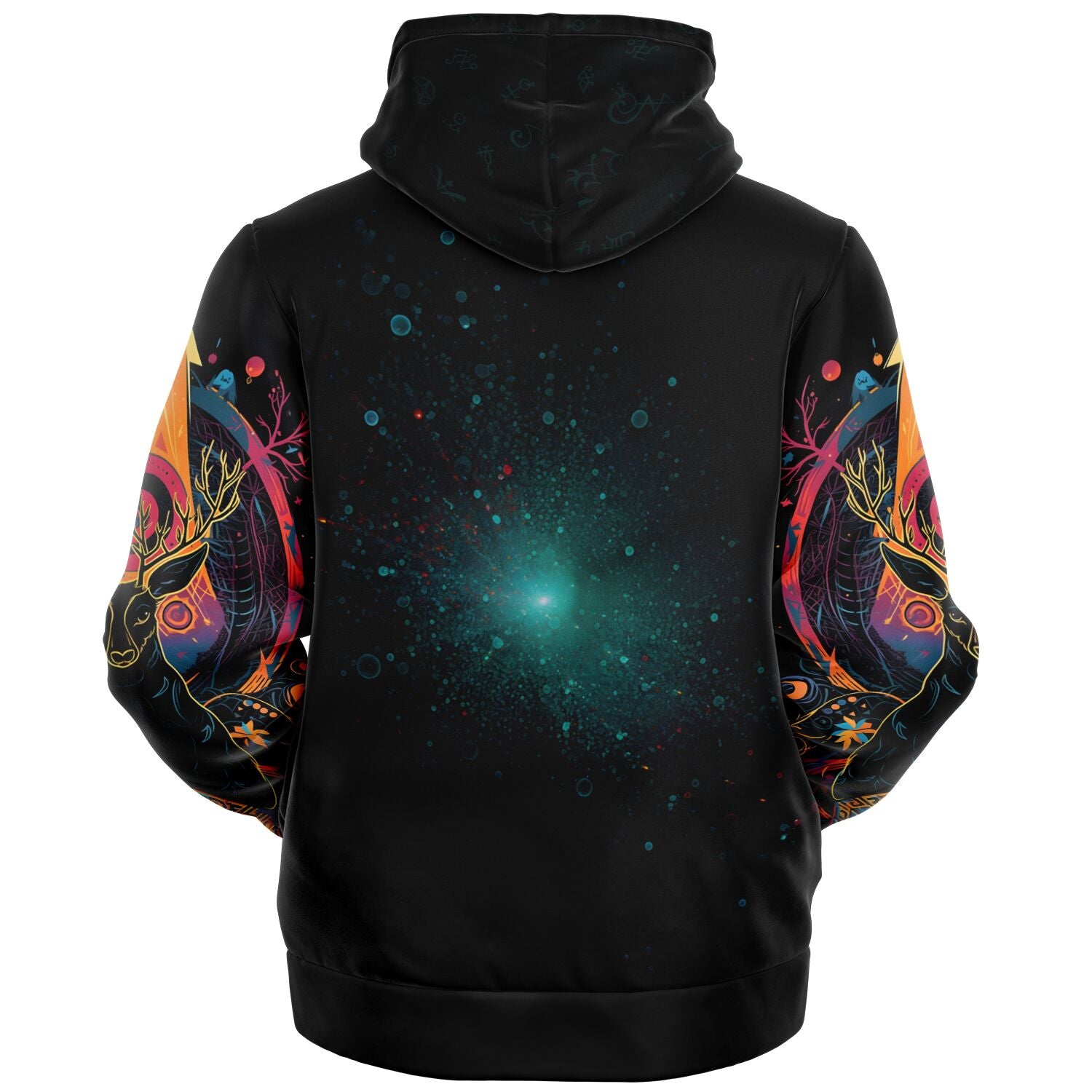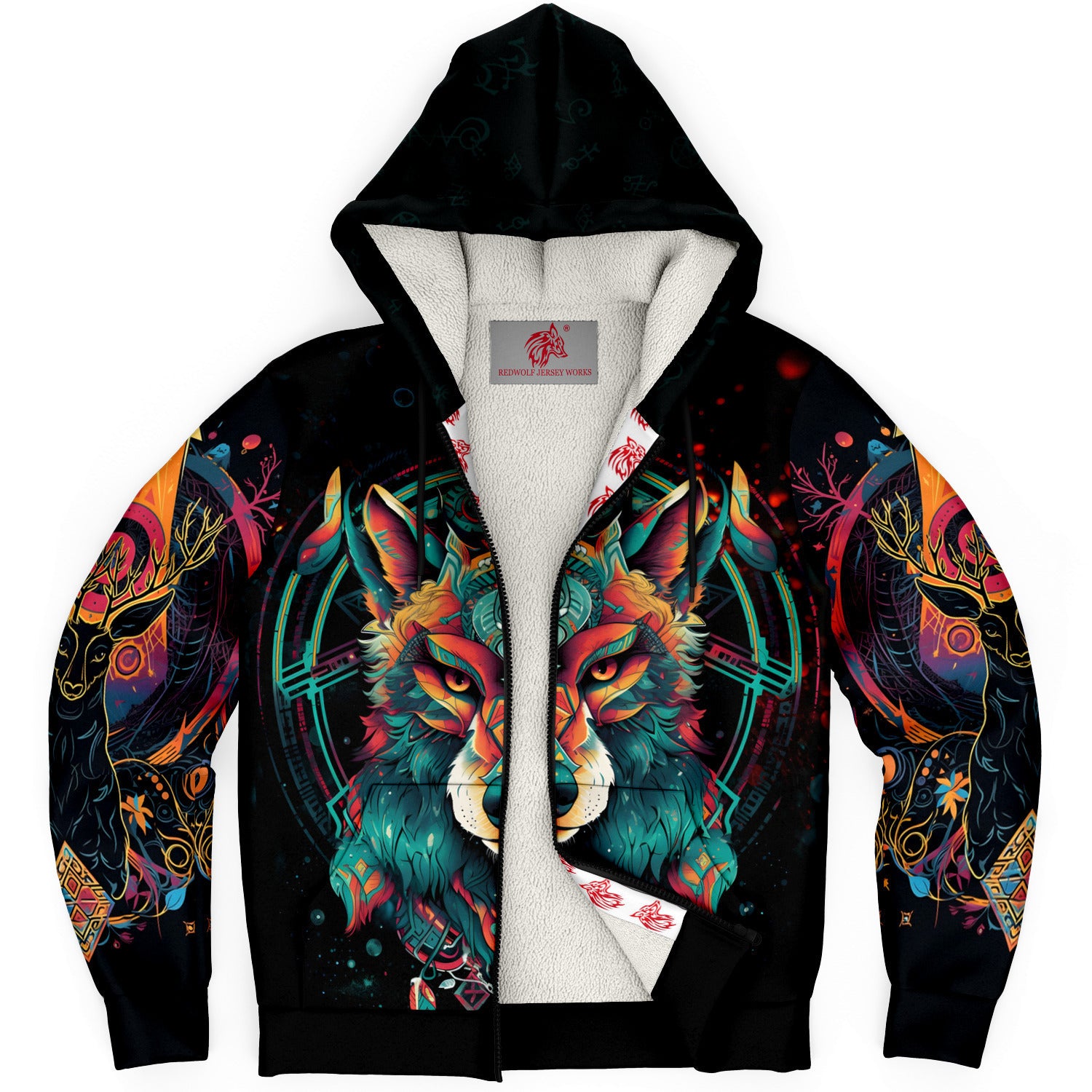 Lupine Dreams Microfleece Zip Hoodie
---
Introducing the "Lupine Dreams" Micro Fleece Zip-Up Hoodie from our Rave Menagerie collection:
Wrap yourself in the warmth and enchantment of mystical animal spirits and vibrant EDM festival culture with our luxurious "Lupine Dreams" Micro Fleece Zip-Up Hoodie. This mesmerizing piece features a stunning multi-colored wolf face and elegant deer motifs, embodying the strength, freedom, and grace of these magnificent creatures.
Crafted from ultra-soft, high-quality micro fleece fabric, our "Lupine Dreams" Zip-Up Hoodie offers unparalleled warmth and comfort for those chilly festival nights or as a cozy addition to your everyday wardrobe. The full-length zipper provides versatility in wear, allowing you to effortlessly layer up or down as needed. The spacious front pockets and snug hood add both practicality and a touch of enchantment, making this hoodie an essential piece of your Rave Menagerie collection.
The vivid colors and enchanting patterns of the "Lupine Dreams" Micro Fleece Zip-Up Hoodie celebrate the fusion of EDM festival culture with the untamed beauty of nature's majestic creatures. With its eye-catching design and premium comfort, this hoodie is the ultimate expression of your wild spirit and love for dance music.
Embrace the power of the wolf and the elegance of the deer with the "Lupine Dreams" Micro Fleece Zip-Up Hoodie. Be bold, be untamed, and let your spirit dance beneath the stars in unparalleled comfort!
This microfleece zip-up hoodie features a soft and durable fabric. The microfleece lining on the inside will make this your most comfy zip-up hoodie ever! It also comes with a visible nylon zipper front closure. Each panel is individually printed, cut and sewn to ensure a flawless graphic with no imperfections.
• 100% Polyester
• Microfleece lining for extra comfort and warmth
• Nylon zipper front closure
• High definition printing colours
• Design will never peel, flake or crack

Because it's handmade for you, these hoodies require 4-8 business days before they are shipped. Orders placed before midnight will be included in the following day's batch for manufacturing.
| Inches | XS | S | M | L | XL | 2XL | 3XL | 4XL |
| --- | --- | --- | --- | --- | --- | --- | --- | --- |
| Front length (from H.P.S.) | 26½ | 28 | 29 | 30 | 30¾ | 31½ | 32¼ | 33 |
| 1/2 Chest | 20½ | 22 | 23½ | 24½ | 25½ | 26½ | 27½ | 28½ |
| Sleeve Length | 25½ | 26½ | 27½ | 28½ | 29½ | 30 | 30½ | 31 |
| Centimeters | XS | S | M | L | XL | 2XL | 3XL | 4XL |
| --- | --- | --- | --- | --- | --- | --- | --- | --- |
| Front length (from H.P.S.) | 67.3 | 71.1 | 73.7 | 76.2 | 78.1 | 80 | 81.9 | 83.8 |
| 1/2 Chest | 52 | 55 | 59.7 | 62.2 | 64.7 | 67.3 | 69.8 | 72.4 |
| Sleeve Length | 64.7 | 67.3 | 69.8 | 72.4 | 74.9 | 76.2 | 77.5 | 78.7 |