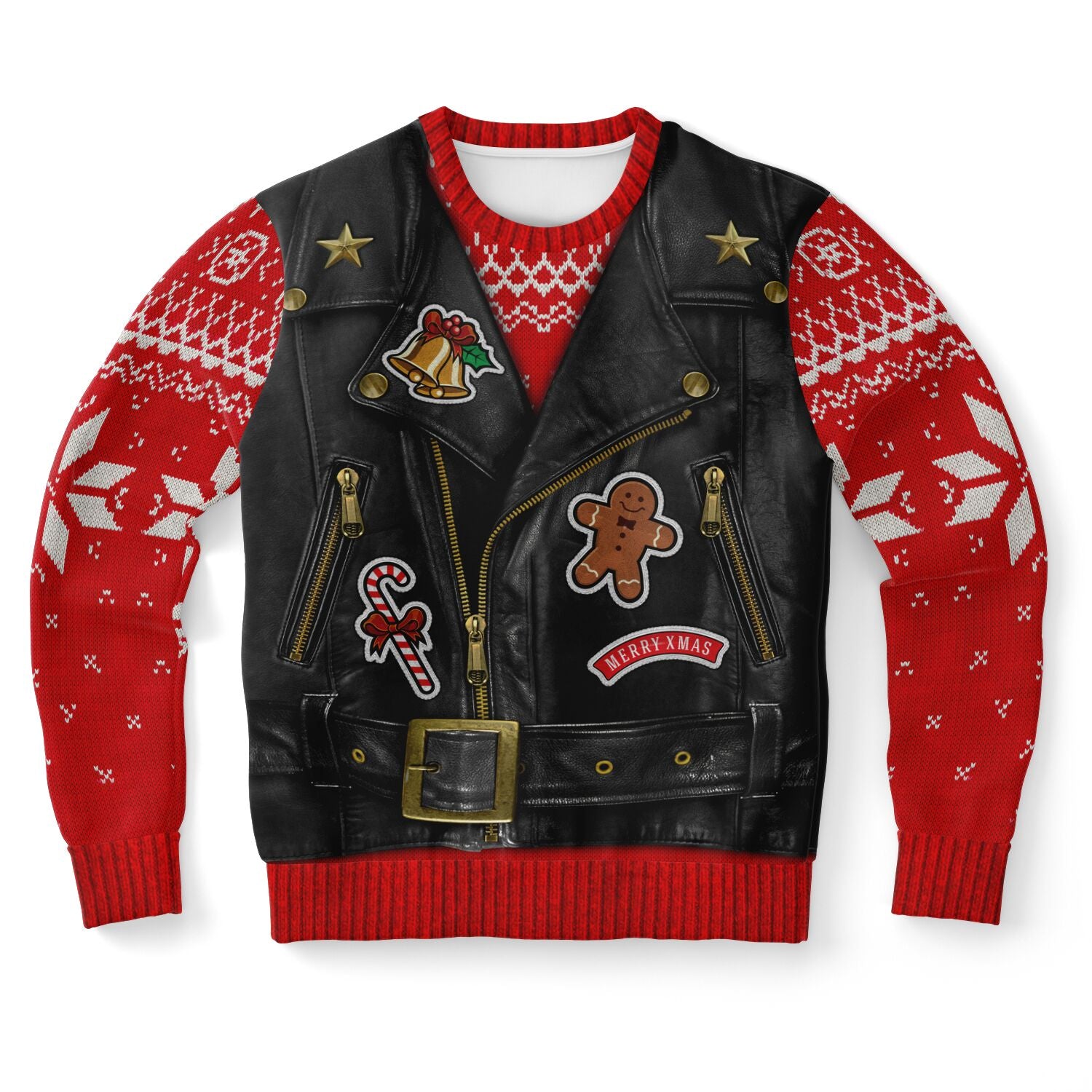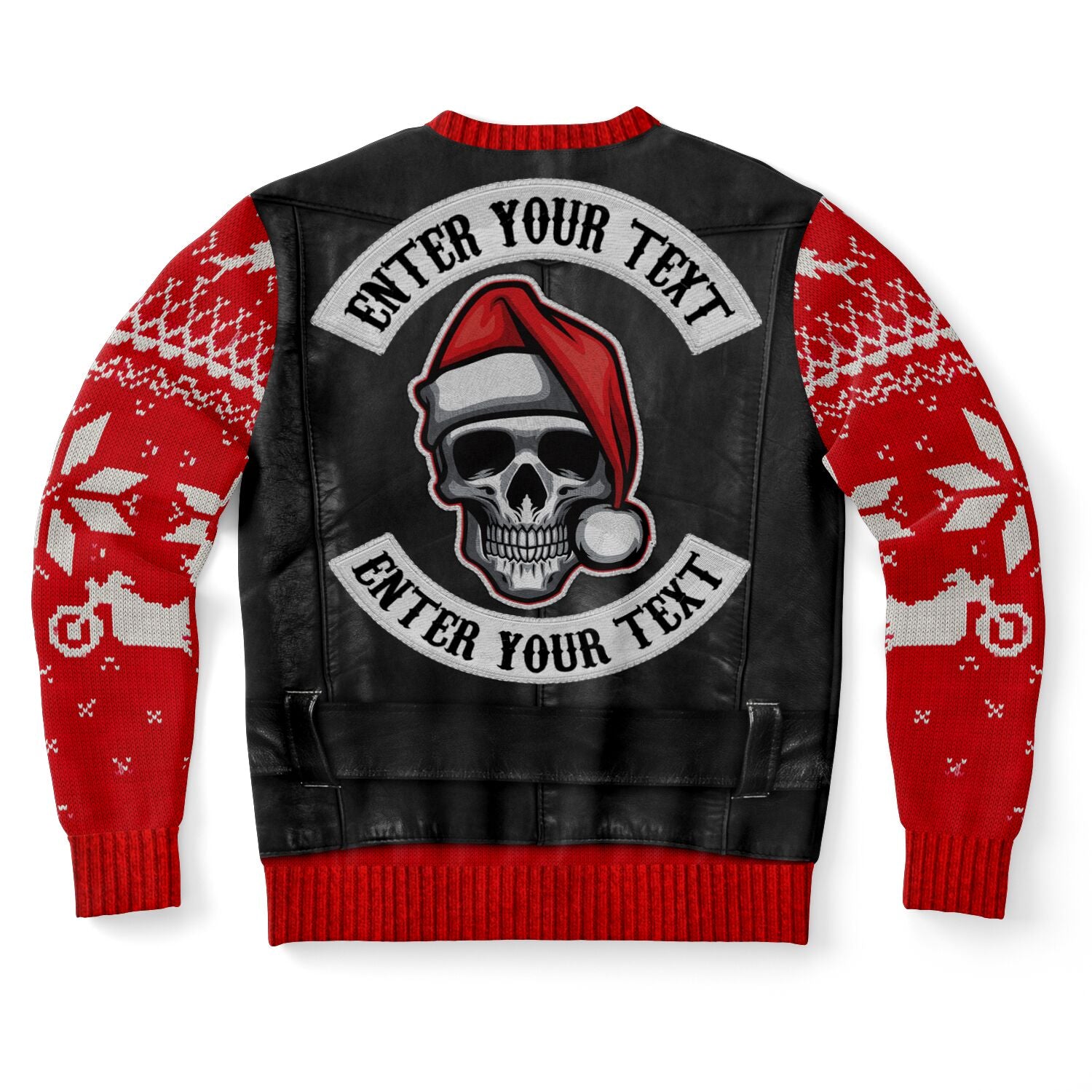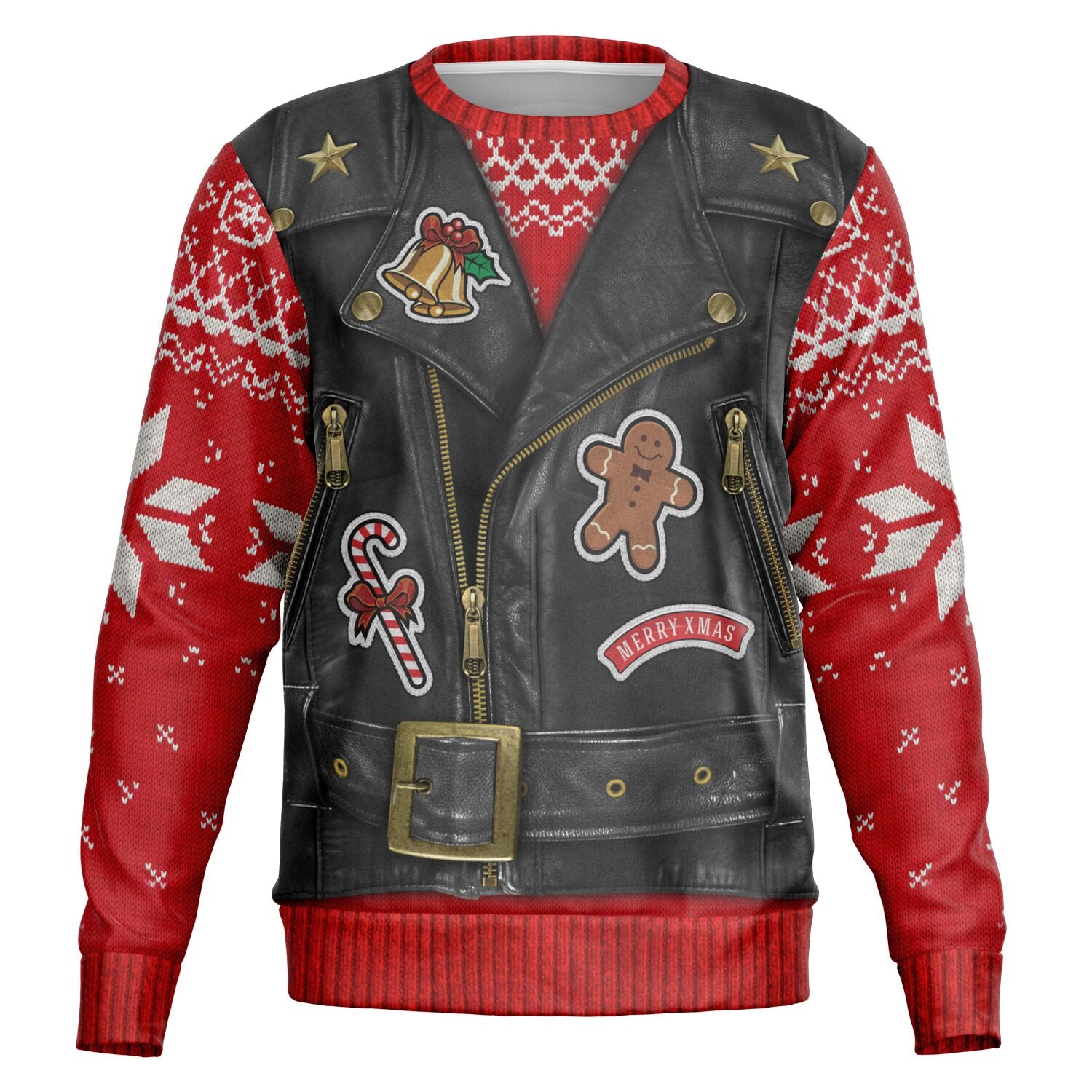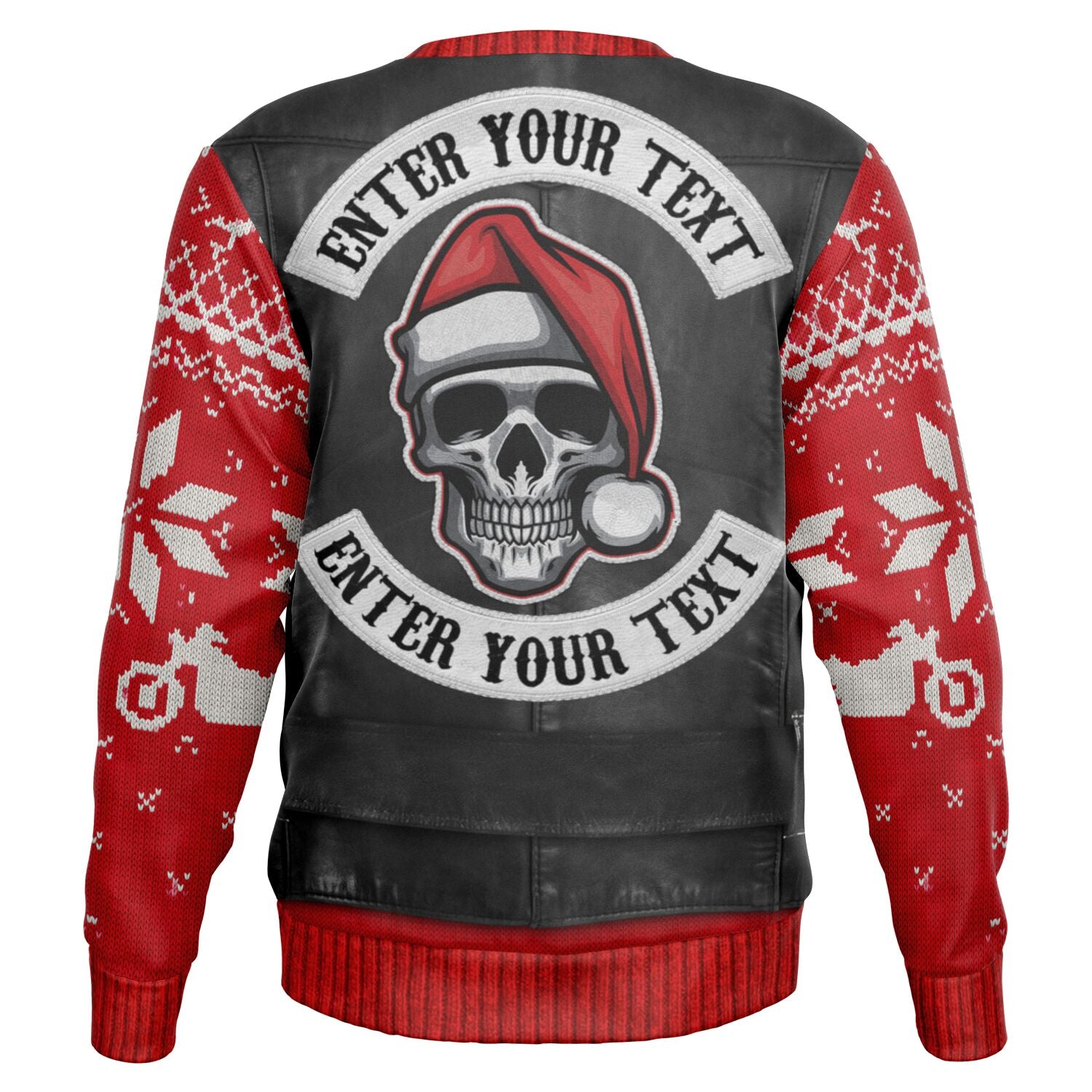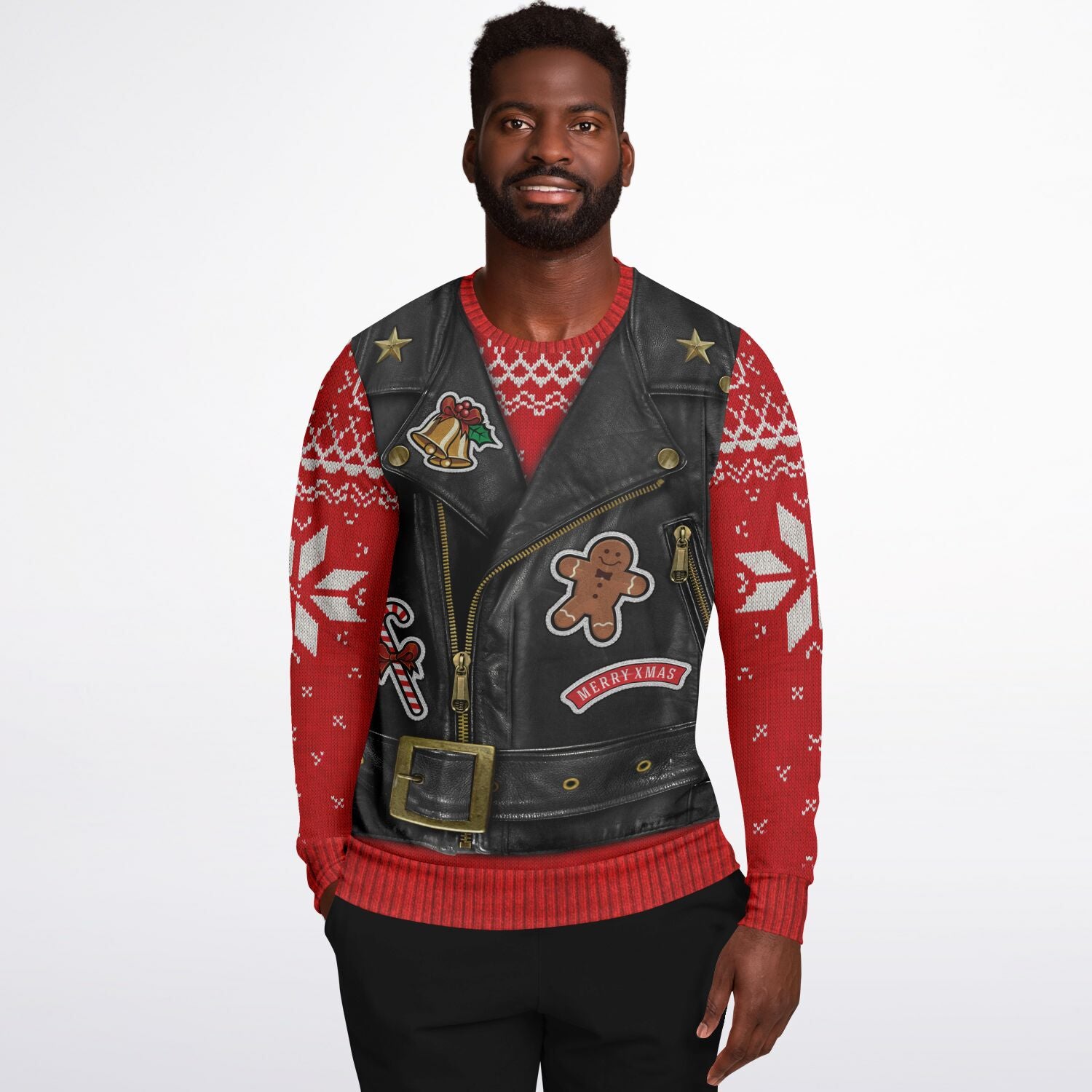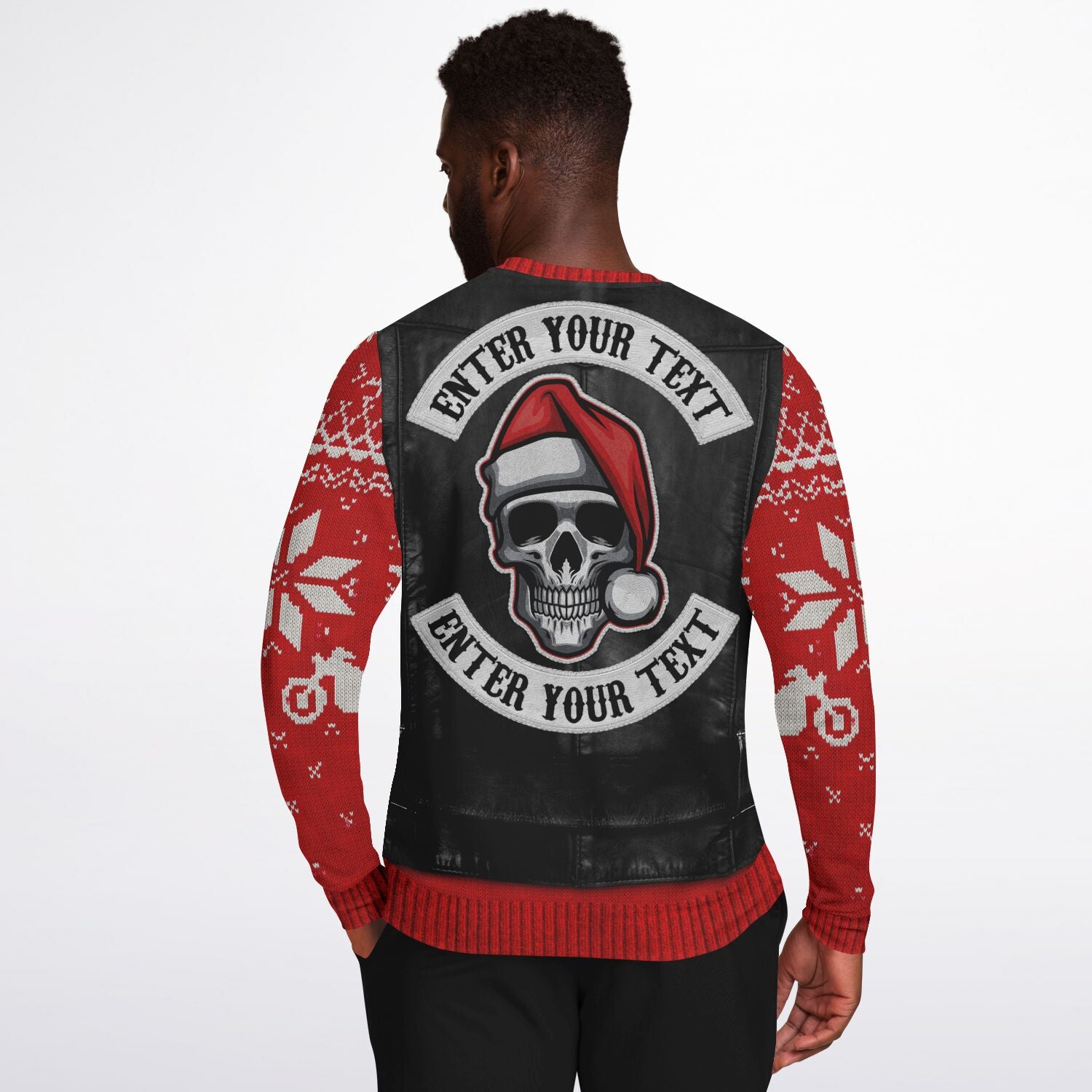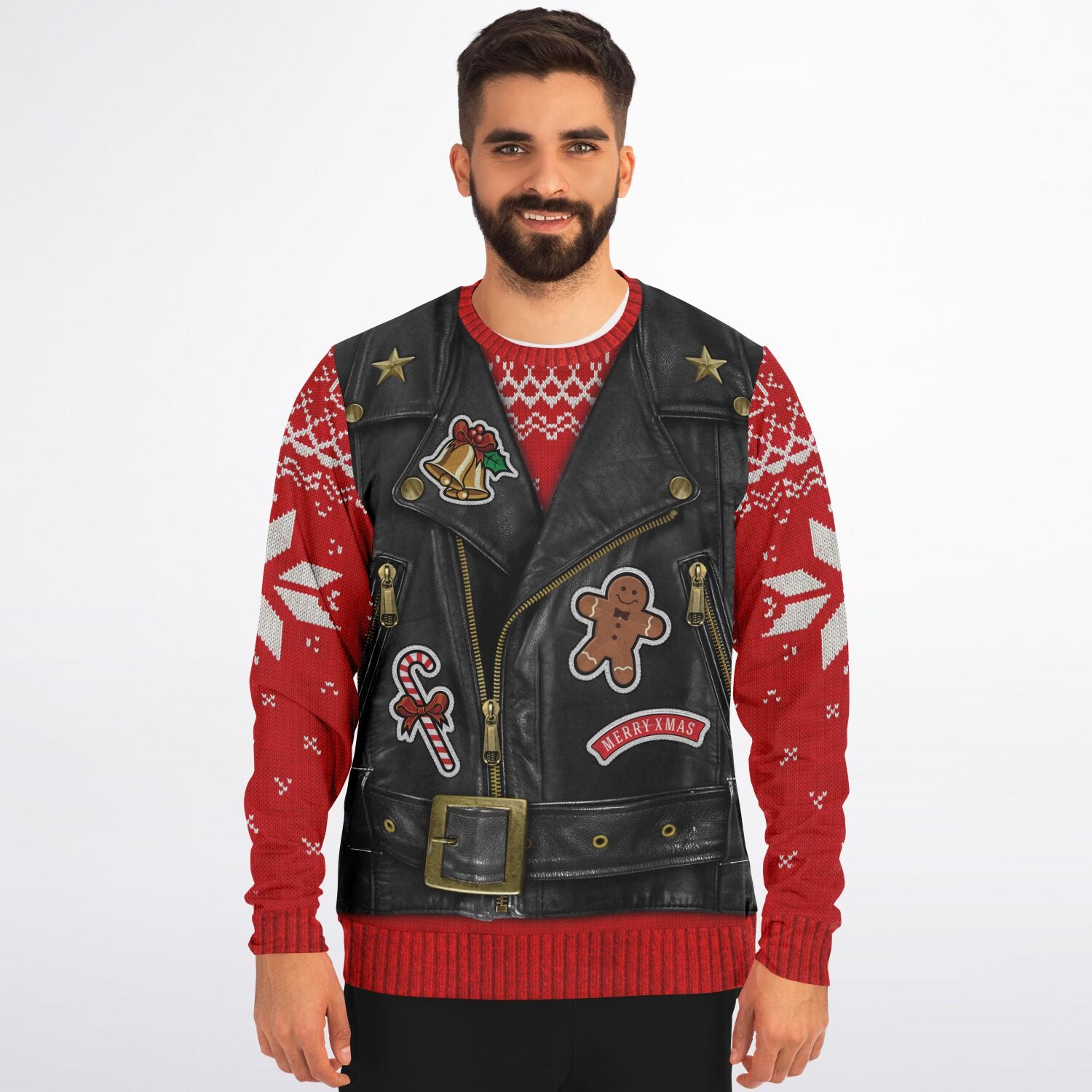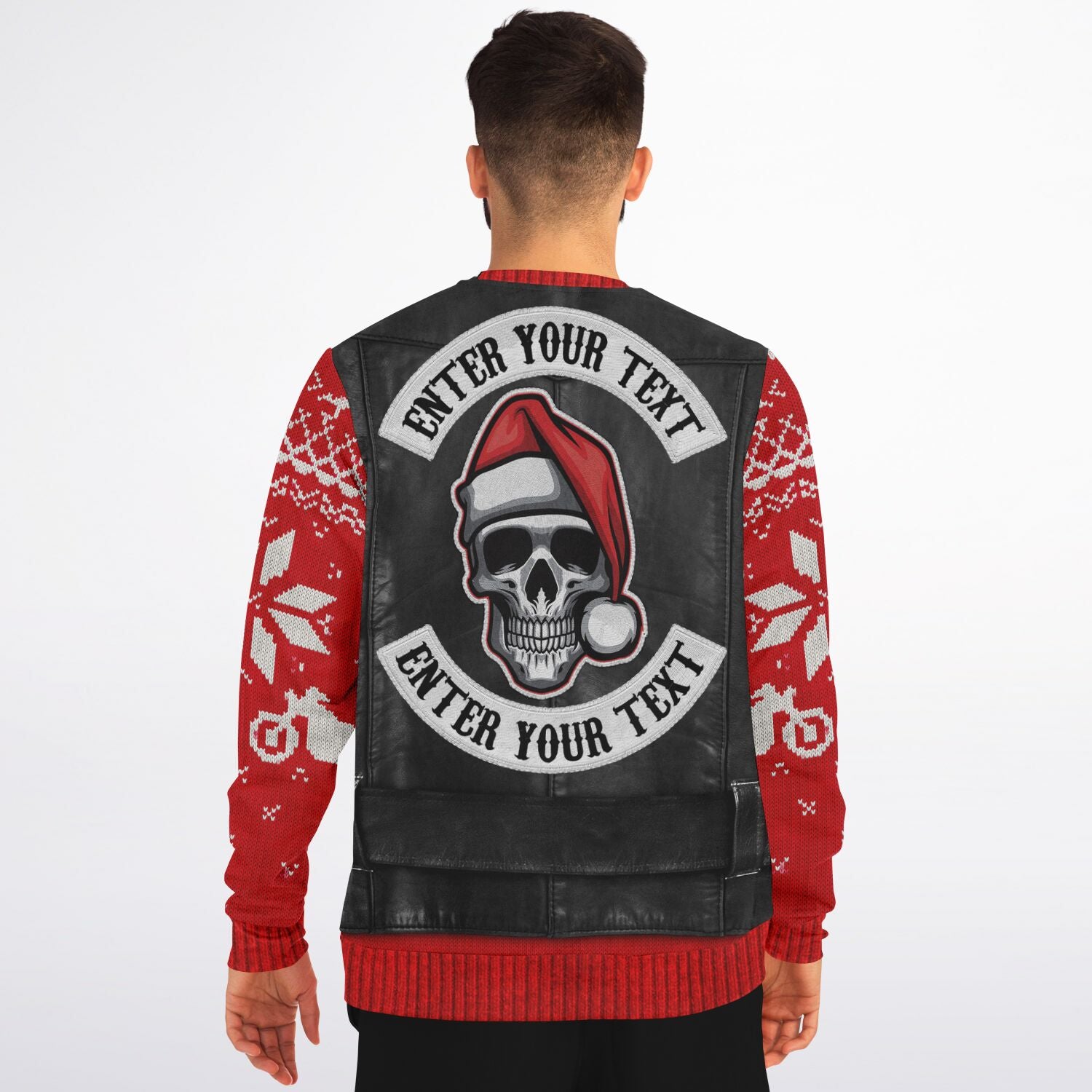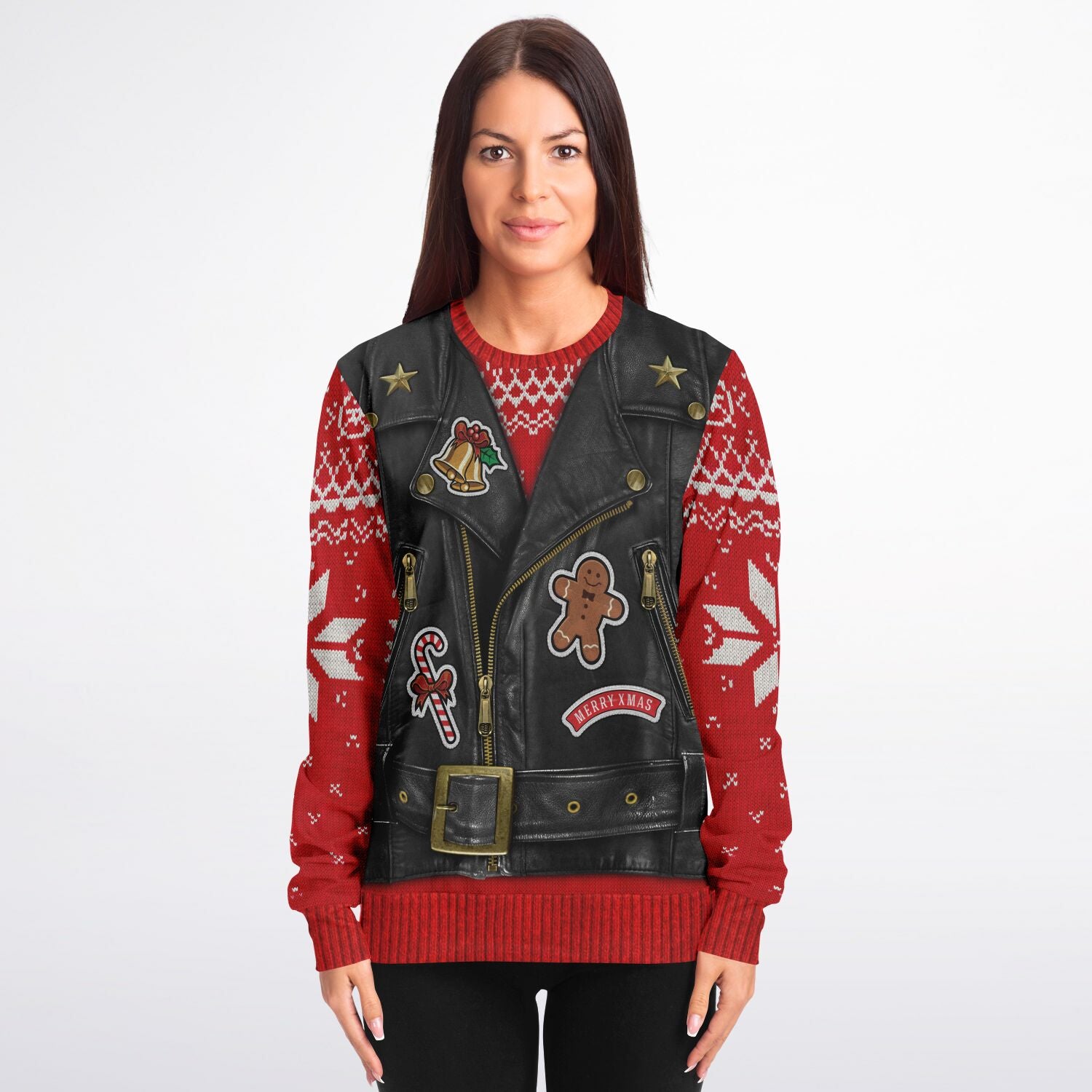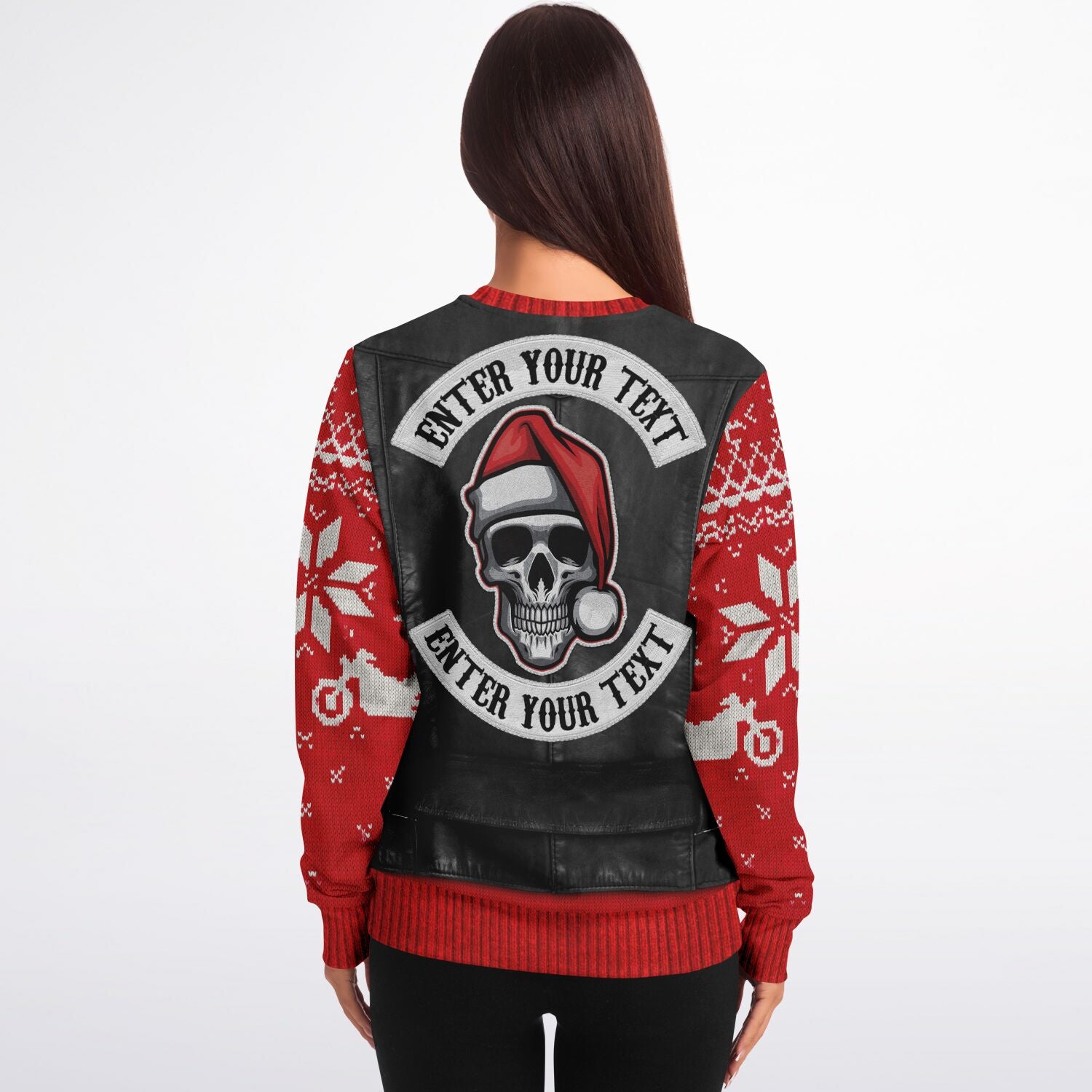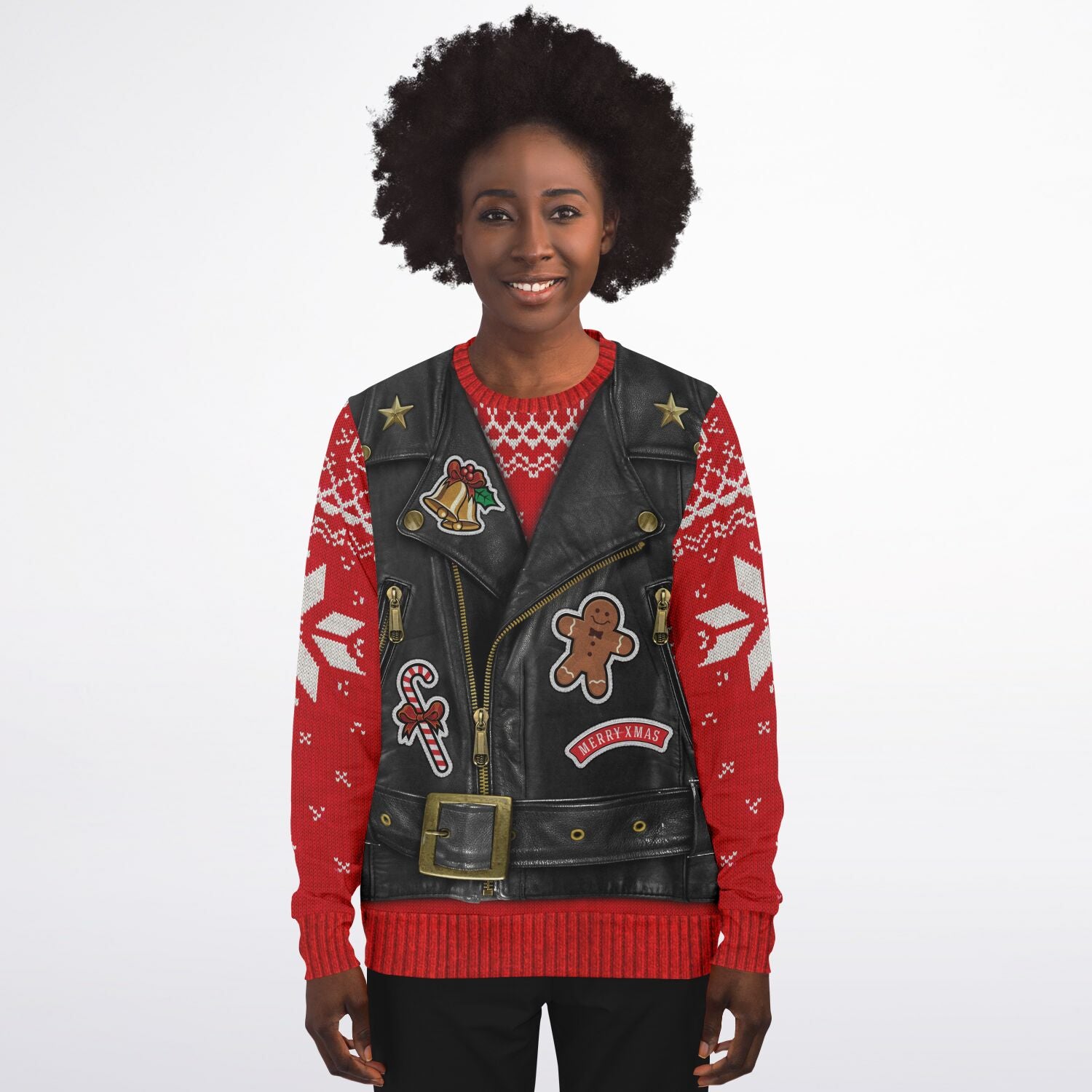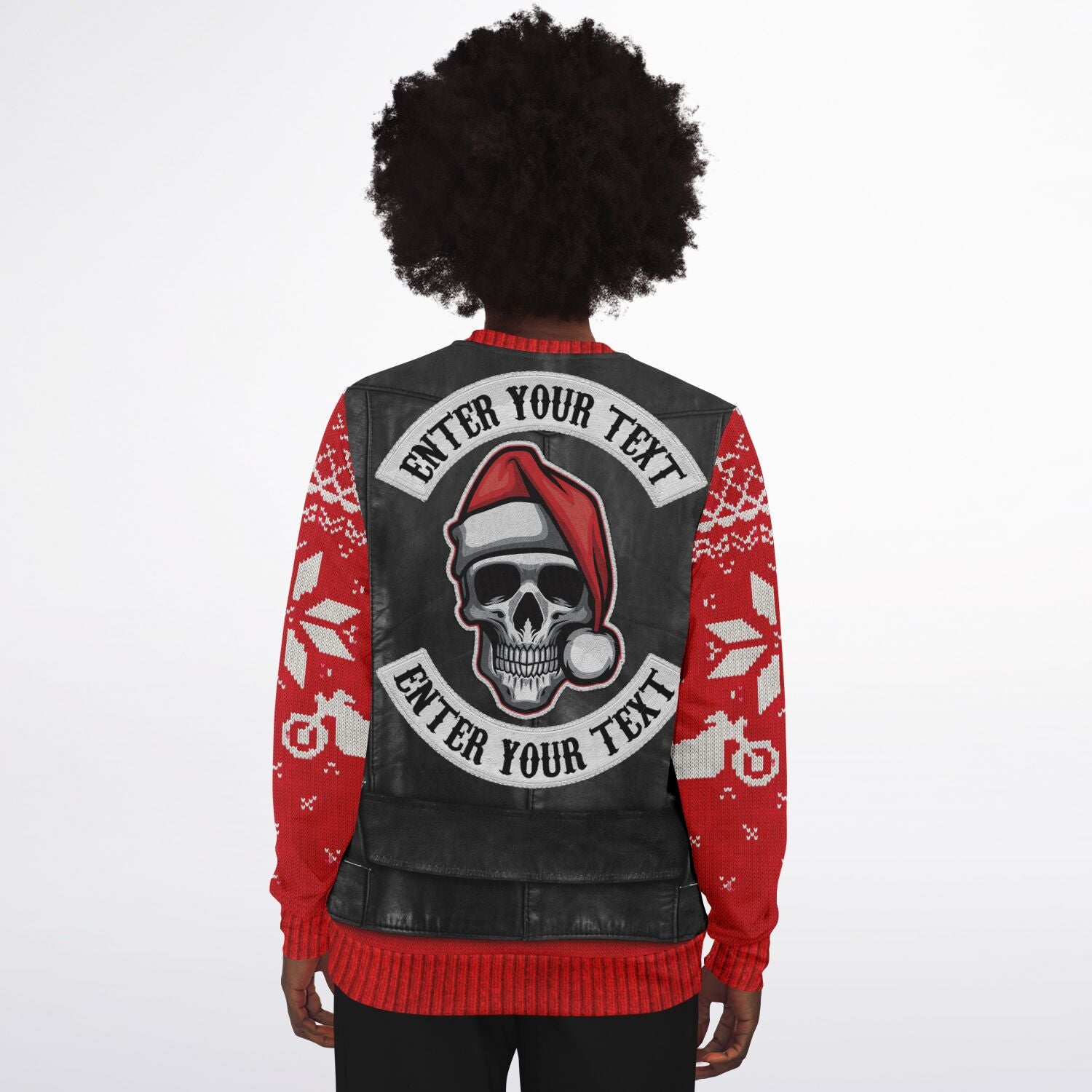 Customizable Biker Vest Ugly Christmas Athletic Sweatshirt
---
Add your own text to this "Sons of Santa" ugly Xmas sweatshirt. 
Rev up your holiday spirit with the Customizable Sons of Santa Leather Biker Vest Ugly Christmas Sweatshirt! Designed to mimic the look of a rugged leather biker vest, this sweatshirt lets you personalize your Christmas swagger. Featuring embroidered patches, metal zipper graphics, and even a space for your biker name, it's a bold take on holiday attire. The sweatshirt combines the classic elements of a biker vest with iconic Christmas symbols for a truly one-of-a-kind holiday experience. Great for the rebel who still loves a little Christmas cheer, this customizable sweatshirt is sure to make you the talk of any holiday gathering. Ride into the holidays in style!
This sweatshirt is crafted from a premium polyester and spandex blend, making it both comfortable and durable. Each panel is individually printed, cut and sewn to ensure a flawless graphic with no imperfections. And high definition printing makes these a pleasure to wear for all occasions.
95% recycled polyester, 5% spandex
Soft handfeel
High definition printing colors
Design will never peel, flake or crack
Two-way stretch fabric
Product is made on demand.
Because it's handmade for you, these sweatshirts require 4-8 business days before they are shipped. Orders placed before midnight will be included in the following day's batch for manufacturing.
| Inches | XS | S | M | L | XL | 2XL | 3XL | 4XL |
| --- | --- | --- | --- | --- | --- | --- | --- | --- |
| Front length (from H.P.S.) | 25½ | 27 | 28½ | 29½ | 30½ | 31¼ | 32 | 32¾ |
| 1/2 Chest | 19½ | 21 | 22½ | 24 | 25 | 26 | 27 | 28 |
| Sleeve Length | 25 | 26 | 27 | 28 | 29 | 30 | 30½ | 31 |
| Centimeters | XS | S | M | L | XL | 2XL | 3XL | 4XL |
| --- | --- | --- | --- | --- | --- | --- | --- | --- |
| Front length (from H.P.S.) | 64.8 | 68.6 | 72.4 | 74.9 | 77.5 | 79.4 | 81.3 | 83.1 |
| 1/2 Chest | 49.5 | 53.5 | 57.1 | 60.9 | 63.5 | 66 | 68.5 | 71 |
| Sleeve Length | 63.5 | 66 | 68.6 | 71.1 | 73.6 | 76.2 | 77.5 | 78.7 |