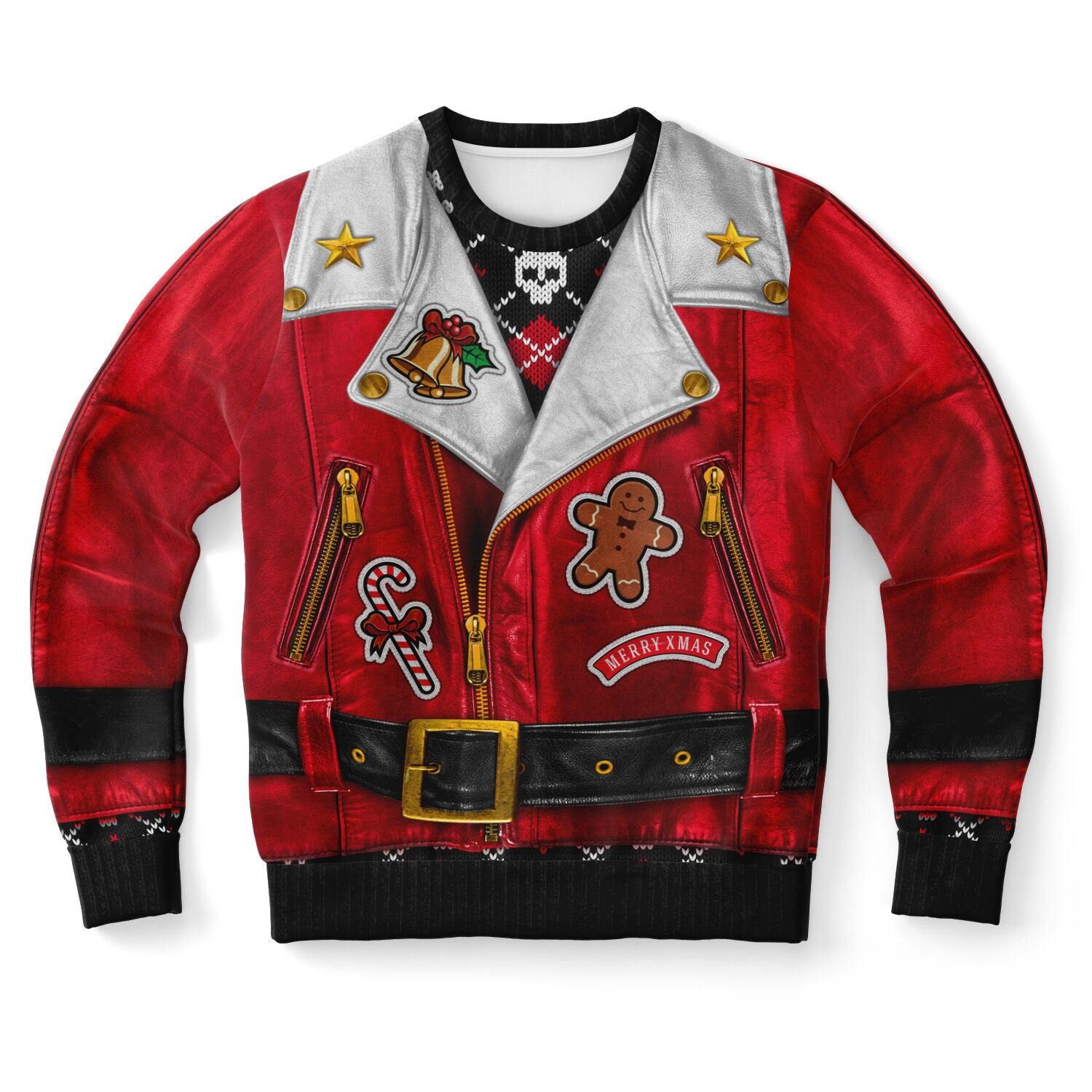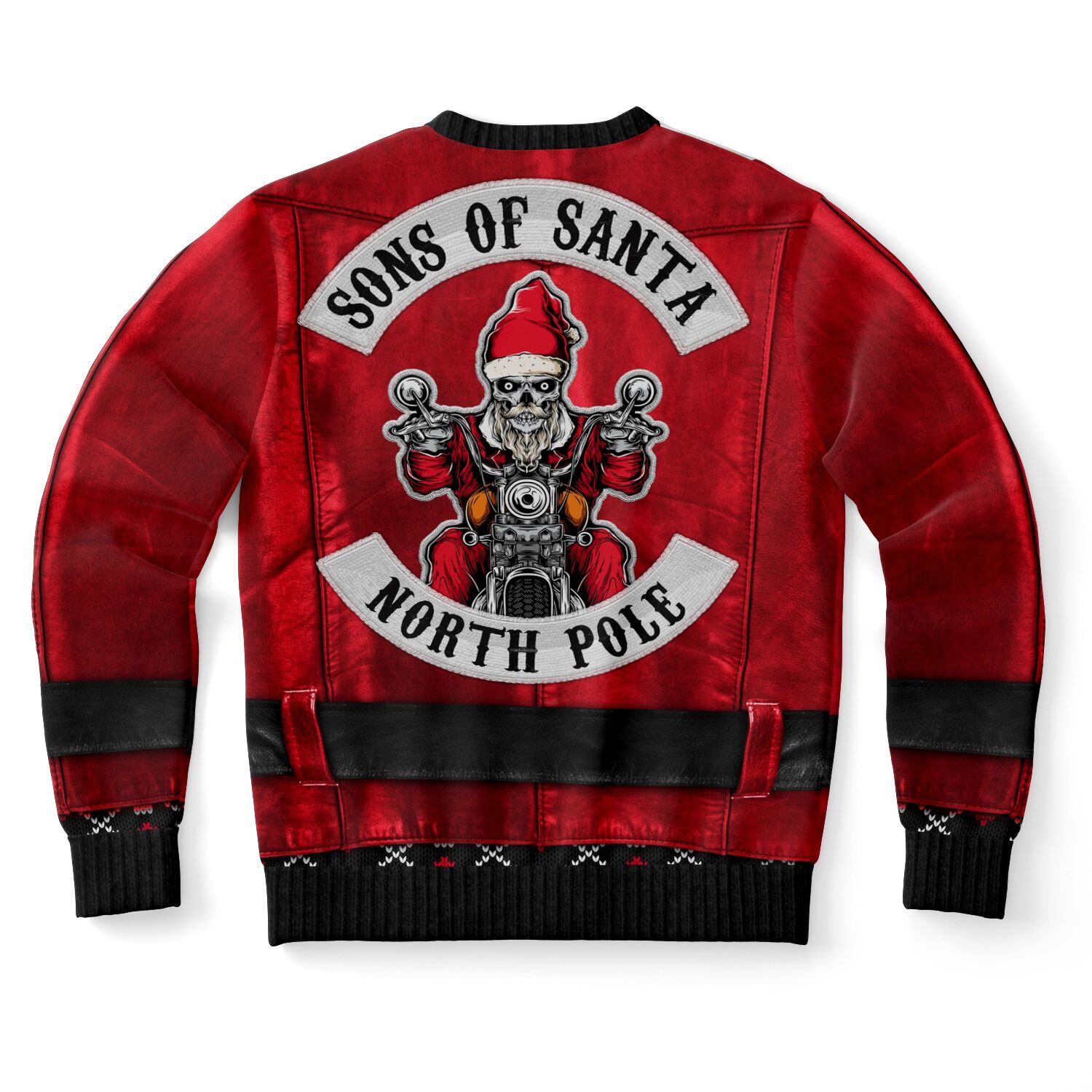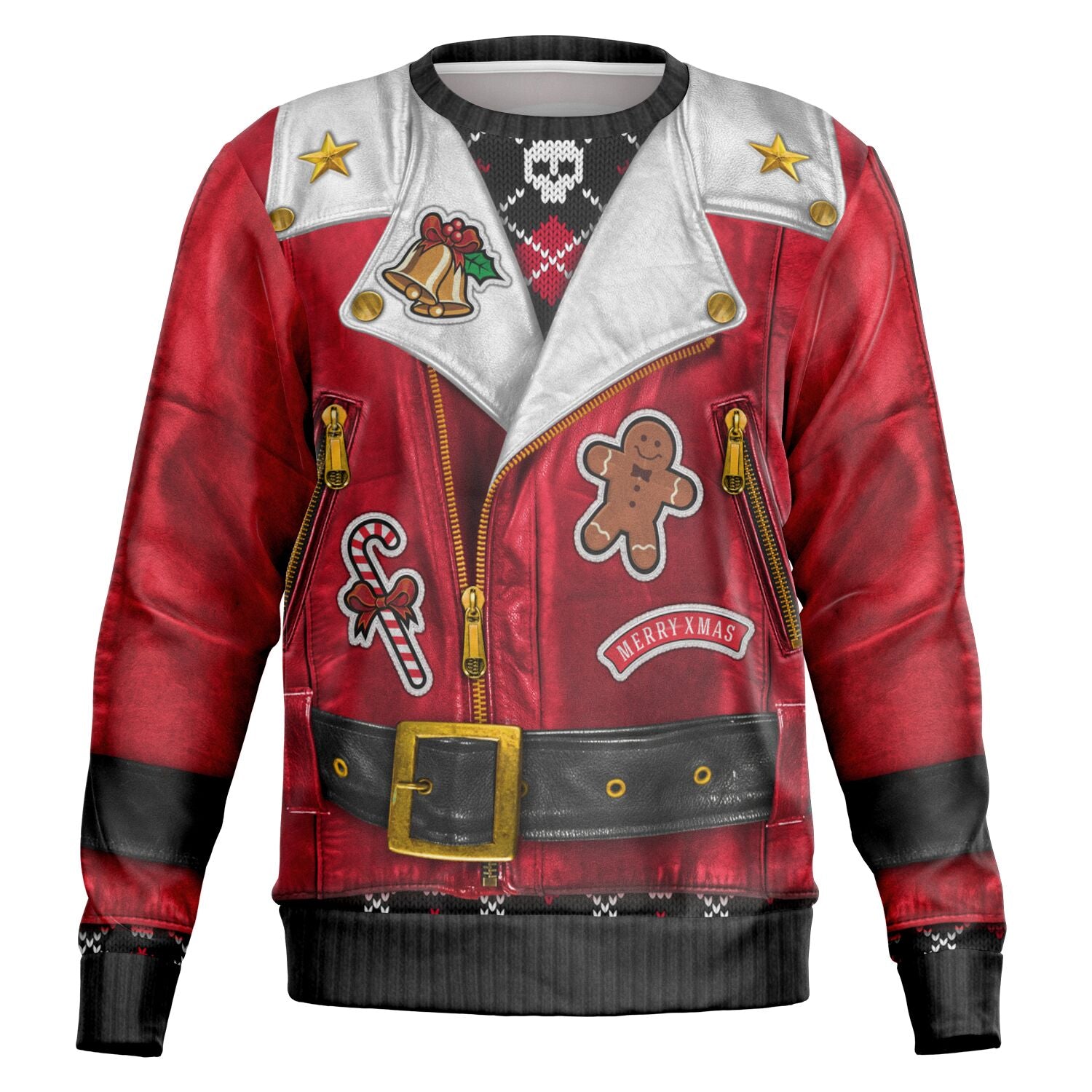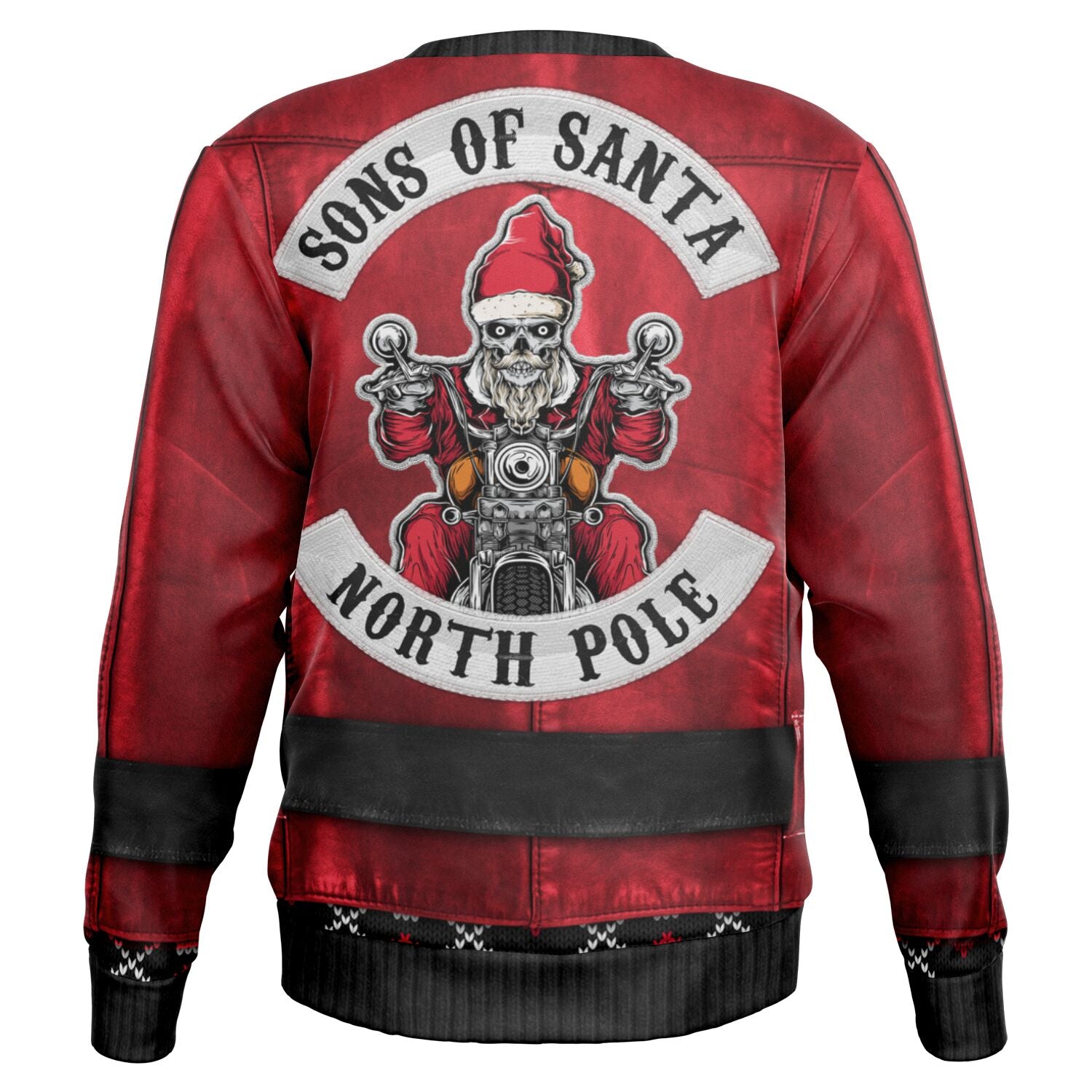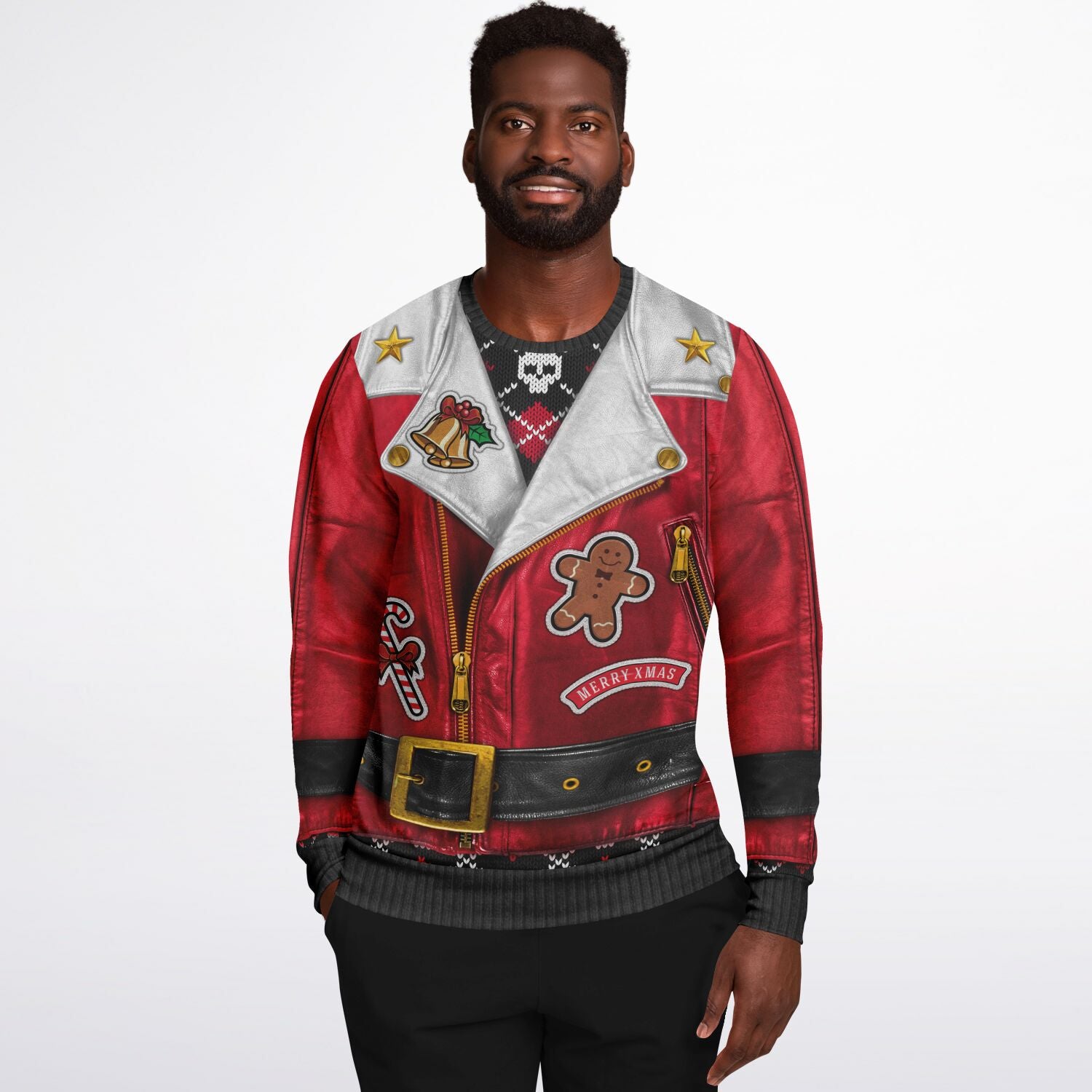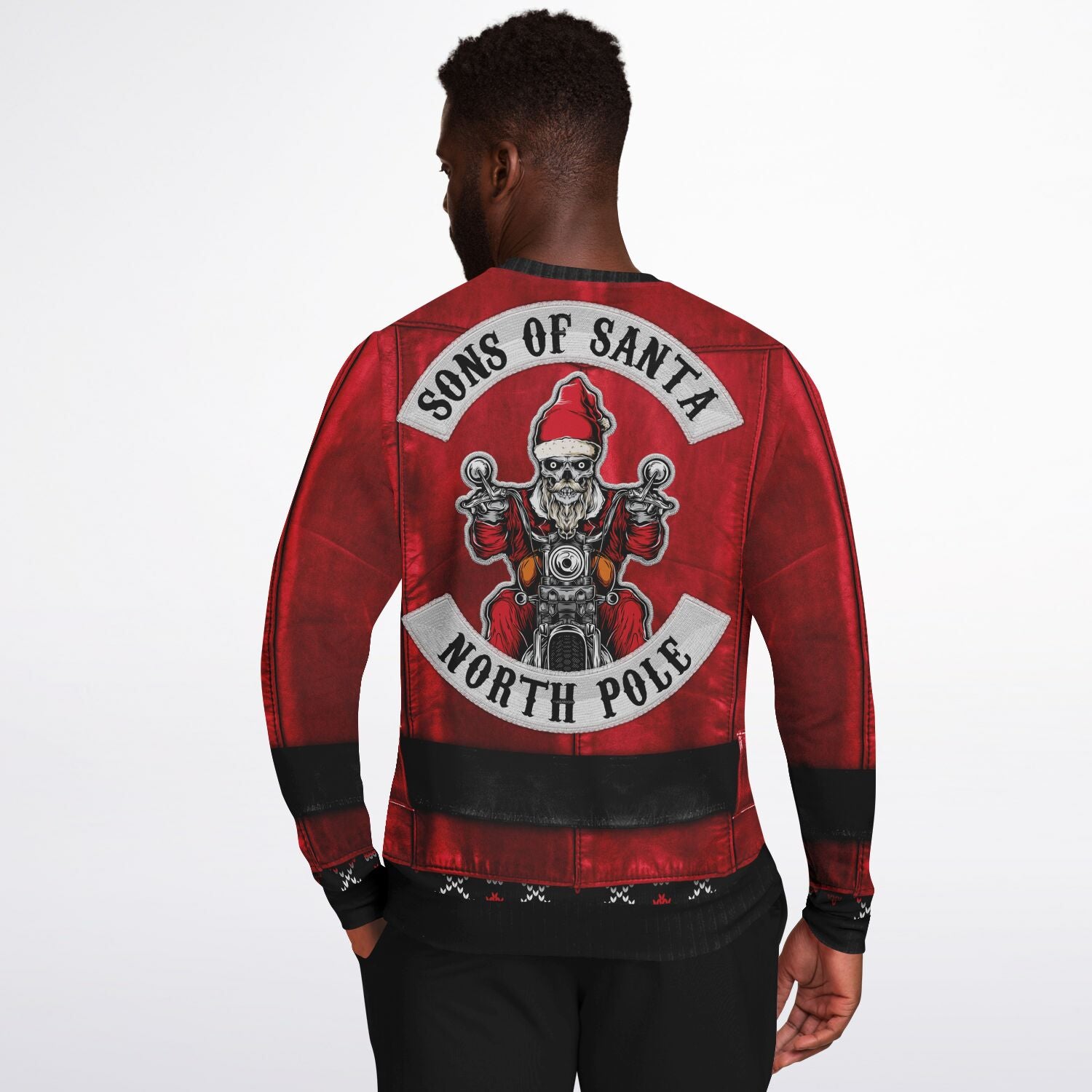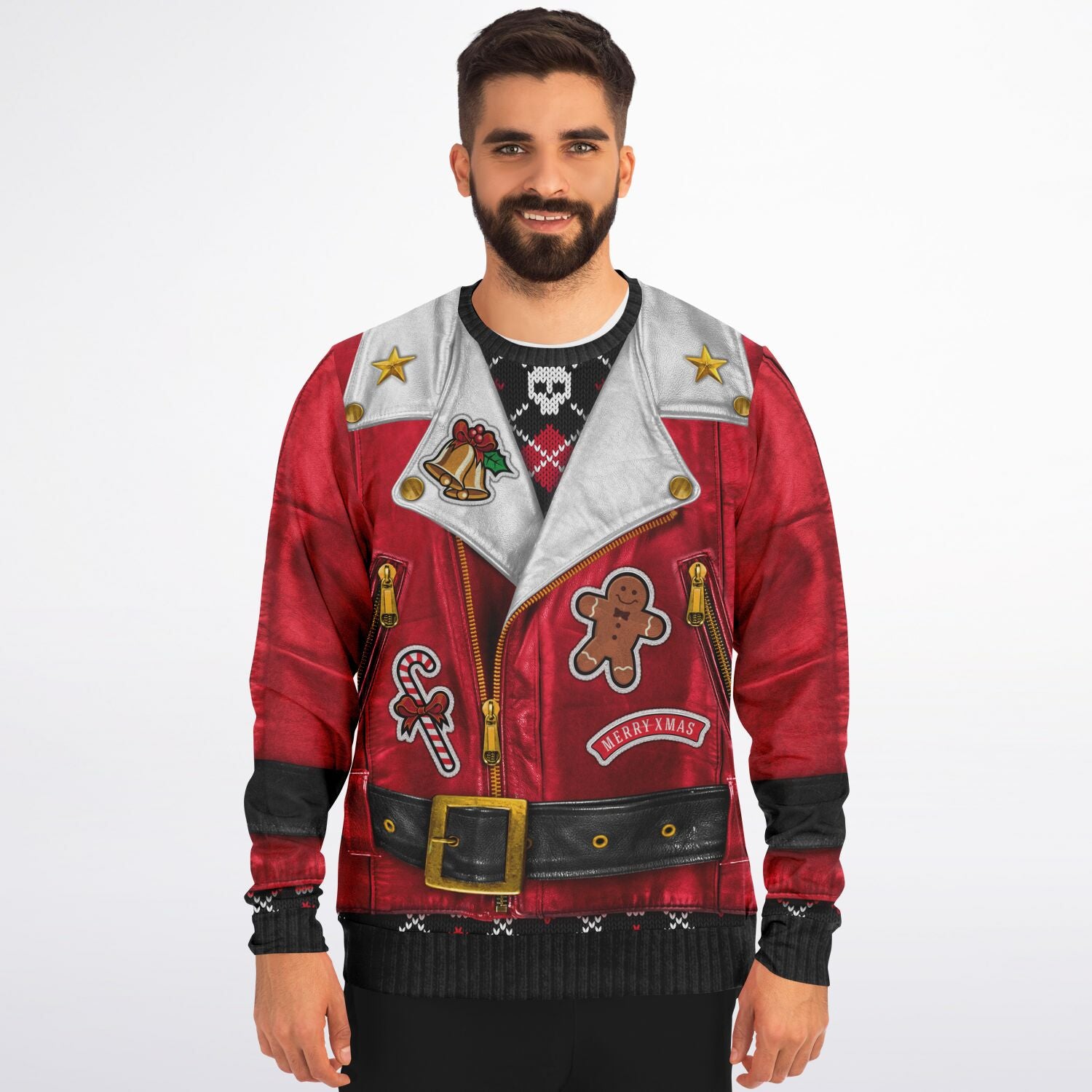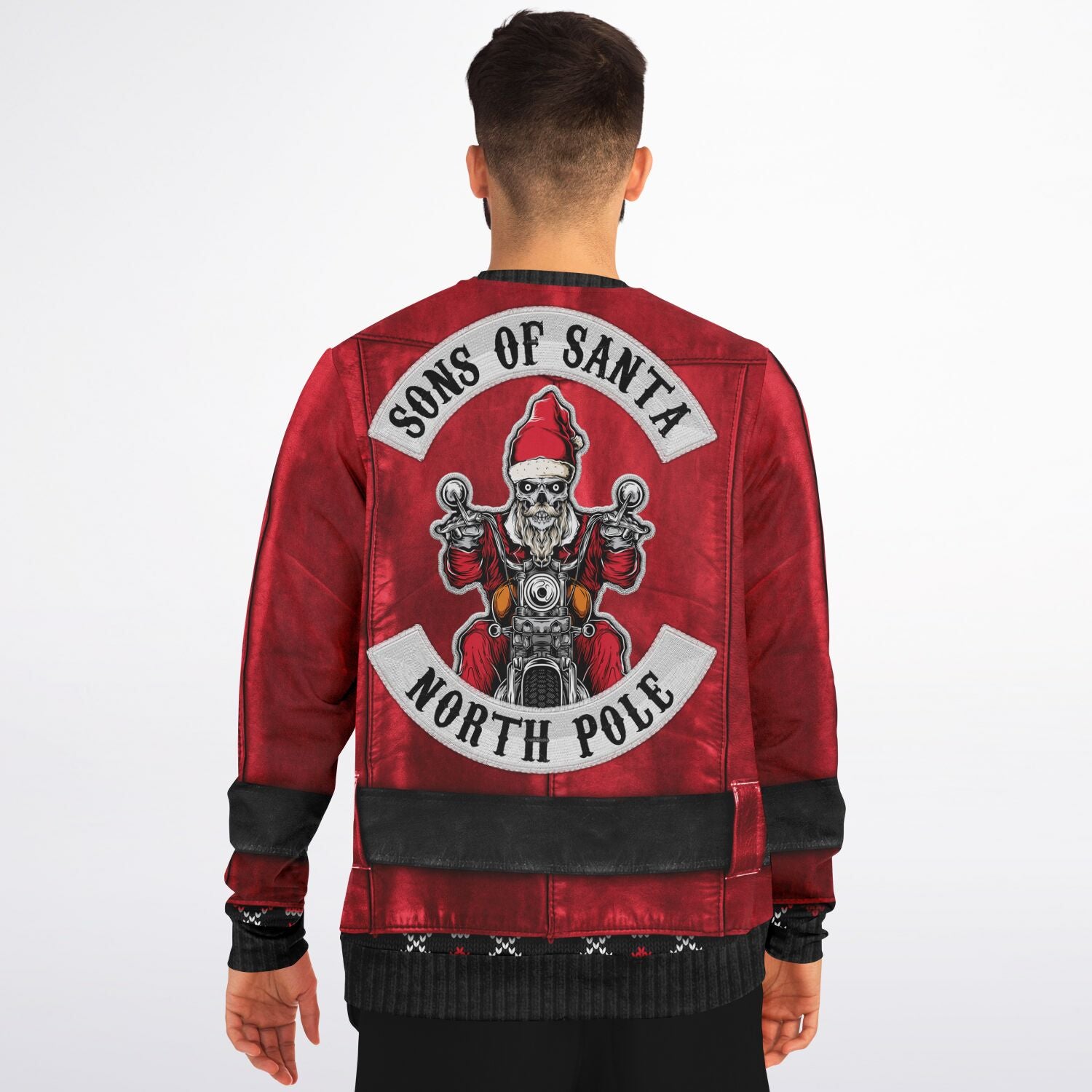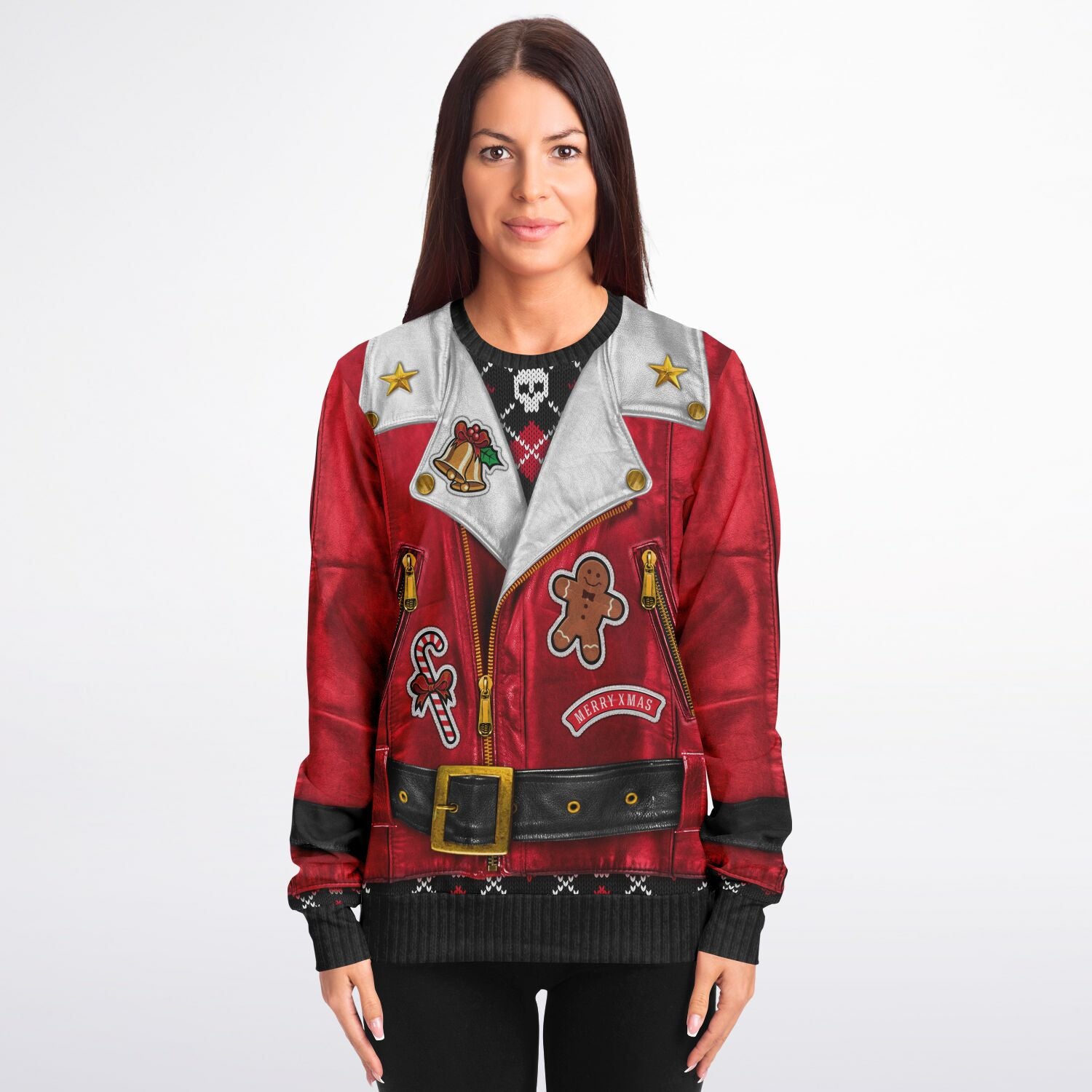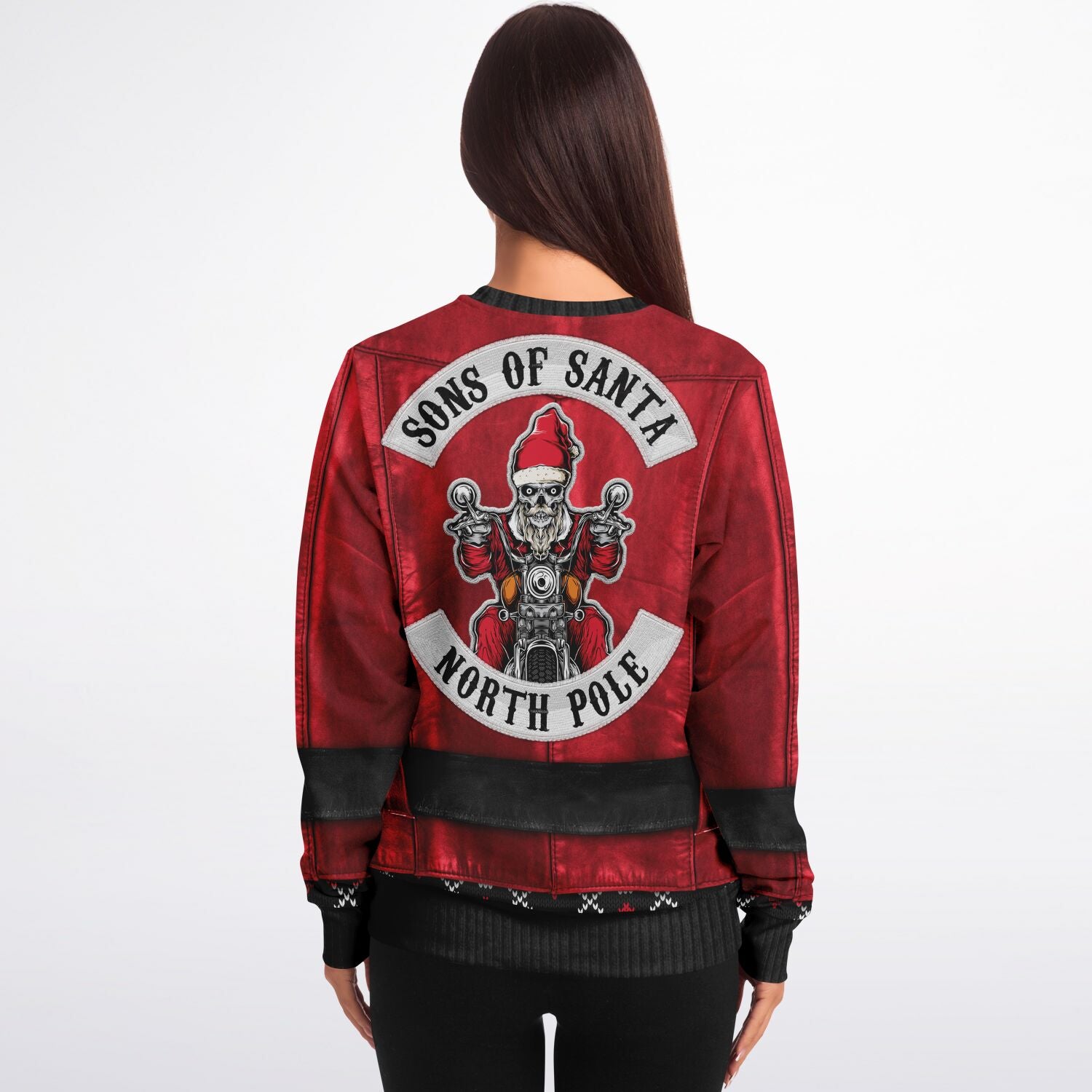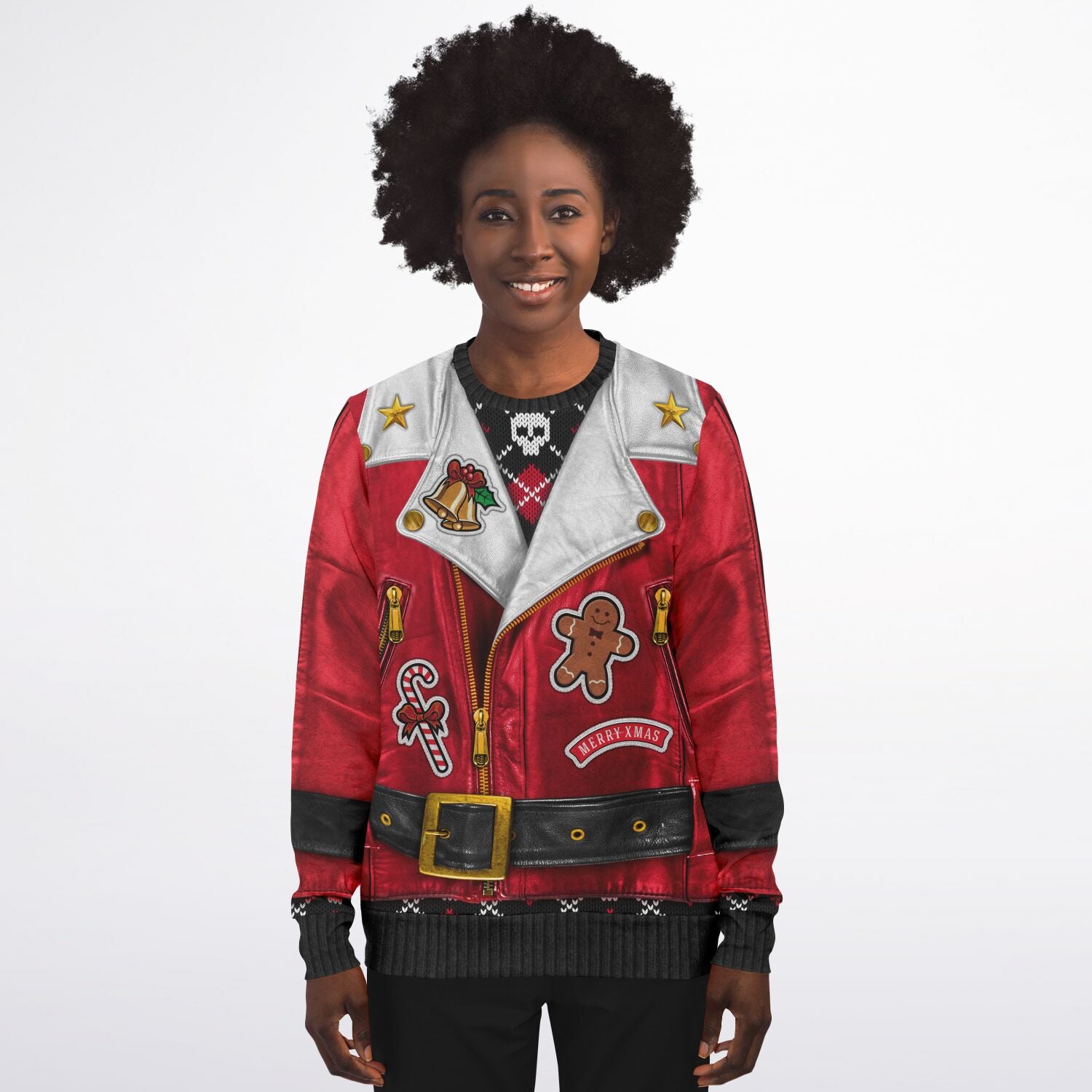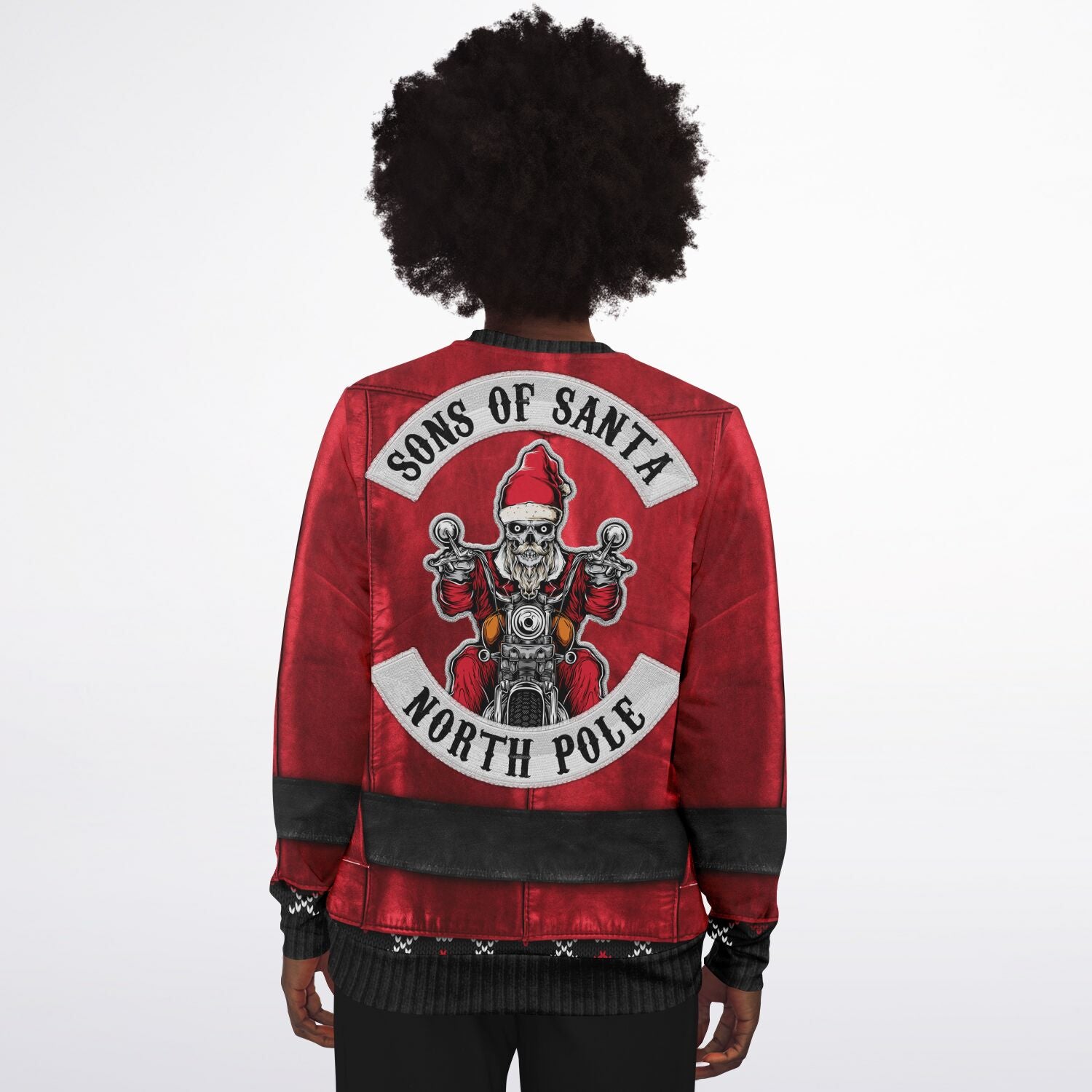 Sons of Santa Red Leather Santa Biker Jacket Athletic Ugly Christmas Sweatshirt
---
Rev up your holiday spirit with the Sons of Santa Red Leather Santa Biker Jacket Ugly Christmas Sweatshirt! This daring sweatshirt gives off the illusion of a bright red leather biker jacket, inspired by the one and only Santa Claus himself. Decked out with embroidered patches that read "Sons of Santa," this sweatshirt combines festive cheer with a touch of rebellious attitude. Intricate detailing like faux zippers, buttons, and quilted stitching make it a conversation starter, ensuring you're the star of any holiday event. Pair it with jeans or leather pants for a complete look that says, "Santa's gone rogue!" Ideal for holiday parties, gift exchanges, or riding your sleigh—I mean, bike—into the holiday sunset.
This sweatshirt is crafted from a premium polyester and spandex blend, making it both comfortable and durable. Each panel is individually printed, cut and sewn to ensure a flawless graphic with no imperfections. And high definition printing makes these a pleasure to wear for all occasions.
95% recycled polyester, 5% spandex
Soft handfeel
High definition printing colors
Design will never peel, flake or crack
Two-way stretch fabric
Product is made on demand.
Because it's handmade for you, these sweatshirts require 4-8 business days before they are shipped. Orders placed before midnight will be included in the following day's batch for manufacturing.
| Inches | XS | S | M | L | XL | 2XL | 3XL | 4XL |
| --- | --- | --- | --- | --- | --- | --- | --- | --- |
| Front length (from H.P.S.) | 25½ | 27 | 28½ | 29½ | 30½ | 31¼ | 32 | 32¾ |
| 1/2 Chest | 19½ | 21 | 22½ | 24 | 25 | 26 | 27 | 28 |
| Sleeve Length | 25 | 26 | 27 | 28 | 29 | 30 | 30½ | 31 |
| Centimeters | XS | S | M | L | XL | 2XL | 3XL | 4XL |
| --- | --- | --- | --- | --- | --- | --- | --- | --- |
| Front length (from H.P.S.) | 64.8 | 68.6 | 72.4 | 74.9 | 77.5 | 79.4 | 81.3 | 83.1 |
| 1/2 Chest | 49.5 | 53.5 | 57.1 | 60.9 | 63.5 | 66 | 68.5 | 71 |
| Sleeve Length | 63.5 | 66 | 68.6 | 71.1 | 73.6 | 76.2 | 77.5 | 78.7 |